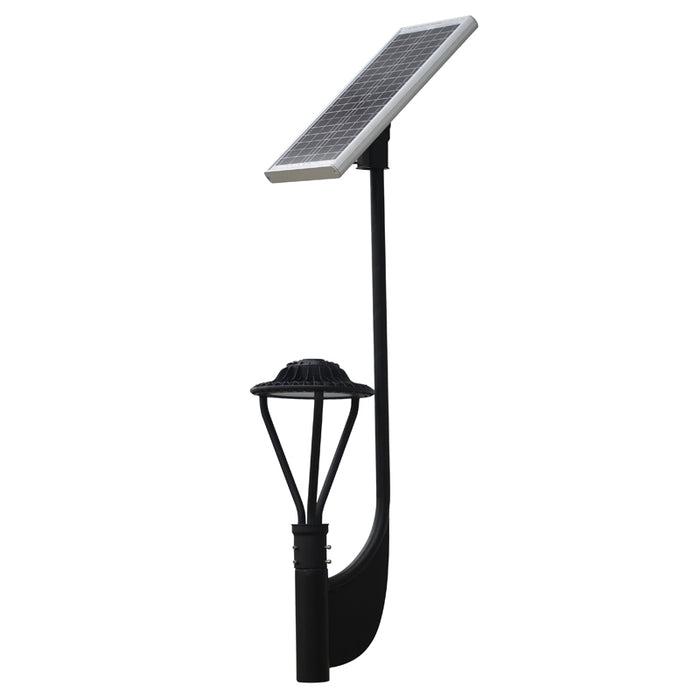 30W 3900 Lumens Solar Post Top LED Area Light

Order Default (Parameter)

Wattage

30W

Colour Temperature

5000K

Lamp Paint

Bronze

Input Voltage

100-277VAC

mount

pole Mount as picture

battrey

yes included

Lumen

120lm/w

Remark:

  

If you Want to ordering others Parameter. When you write address remark the Special Parameter into "ORDER NOTES"
12V 30W LED MAX Power, 18V/50W Solar panel Max power, 3600-3900lm in full brightness mode, PHILIP 3030 LED, 6-7 hours charge time, 4 days reserve (autonomy) power to allow for cloudy days.
This 12v 30w solar street lamp post top area lighting is powerful all-in-one fixture,it provides 3600-3900lm from PHILIP 84/126 3030 LEDs,The compact design allows it to be installed in minutes onto an existing pole up to 2.5″ diameter. It is perfect for replacing an existing gas or electric lamp or for new installations.
This unique solar powered pole top area lamp automatically illuminates at dusk in full brightness (3000-3900 Lumens). After 6-7 hours in bright mode, the light will switch to brightness for the remaining hours of the night.
This all in one light fixture consists of an aluminum lampshade, LED lights that provide 360°of light. All components of this light are built in to a compact, easy to install fixture.The solar panel is installed on to the top of the lamp, with a lithium rechargeable battery and charge controller installed within the unit. The light can be installed within minutes by placing the light on top of an existing pole, and tightening four bolts.
Popular Uses
This light fixture is designed to attach to the top of a round post or pole with a diameter up to 2.5″. It is ideal for replacing an old gas lamp or failed electric lamp. It can be used for general area lighting, small parking lots, small streets and alleyways etc. Popular with HOAs and communities.
1. All in one design
2. dusk to dawn illumination
3. 4 days reserve (autonomy) power to allow for cloudy days
4. used to replace a lamp that is damaged or where the electric cable is defective
5. used for driveways, footpaths and general public areas etc.
6. Light output is 3000-3900 Lumens in full brightness mode
7. Solar panel Max power is 18V/50W
8. LED MAX Power is 12V 30W
9. IP65 rating
10. 3 Years Warrantys
Weight    82 kg
Item No.
BB-LD-S30W-AR-B
LED MAX Power
12V 30W
Solar Panel Max Power
18V/50W
Luminous Flux
3600-3900lm (in full brightness mode)
Lamps material of main
Metal
Mounting Height
6-7m
Space Bettwen Light
20-25m
Beam Angle
120°
Light Source/Count
PHILIP 3030 LED
Discharge Time
more than 20hours
Operating Temperature
-40° ~ 45°C
Charge Time
6-7hours(with enough strong shine)
Solar Cell
High efficiency imported silicon solar cell
Cover
Frosted cover
LED Luminous Efficiency
>130lm/w
Color Temperature

5000K Cool White

 

/ 5700K CW
LED Emitter Life
50,000 hours at 25°C
The Dimensions
see dimensional drawing
Applications
used to replace a lamp that is damaged or where the electric cable is defective
Warranty

3 Years